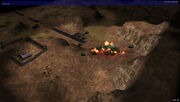 Time limit: 1 hour
You have the same units when you start this mission than the units that survived last mission. And you start with the same technology of the previous mission.
Mission:
"A power surge has been detected to the south of our position.
Investigate and secure the area."
Technology available for this level:
Technology of the previous mission
High Temperature Flamer Gel
High Temperature Flamer Gel Mk2
Flamer Autoloader
High Temperature Flamer Gel Mk3
Sensor Tower
Ad blocker interference detected!
Wikia is a free-to-use site that makes money from advertising. We have a modified experience for viewers using ad blockers

Wikia is not accessible if you've made further modifications. Remove the custom ad blocker rule(s) and the page will load as expected.