Welcome to Wikizone 2100, a Warzone 2100 Wiki
About the wiki
This wiki has just been started, and since this is the 1st time that I, Shadow Wolf TJC, have founded a wiki, let alone managed one as an admin or higher, please be patient with me as I try to figure out how to work this thing.
Anyways, Wikizone 2100 was originally created to serve as a database for all things Warzone 2100, from detailed lists on various weapons, vehicles, structures, and research items, to the game's backstory and plot, to instructions on how to mod the game.
New members should read this: Wikizone 2100:Policy
--Shadow Wolf TJC, Wikizone 2100 founder--
About Warzone 2100
See also: Wikipedia Entry for Warzone 2100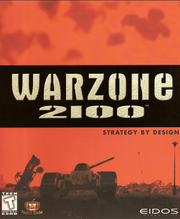 Warzone 2100 is a real-time strategy game, originally developed by Pumpkin Studios and published by Eidos-Interactive™, and originally released in 1999 for PC and Playstation®. However, in December 2004, Warzone was released by its copyright holders, Eidos-Interactive™, to the public under the GNU General Public License (GPL). Since then, the Warzone 2100 community has been keeping this rts game alive, and the game has since been ported to platforms such as Mac OS X, Linux, and more.
Although comparable to other 3D RTS games such as Total Annihilation or Earth 2150, it contained some features that were unique: including various radar technologies, a greater focus on artillery and counter-battery technologies, and, most notably, the ability for players to design their own vehicles.
The game can be downloaded here.
News and Announcements
As requested by others in the wz2100.net forums, work has been started on creating a guide for the Contingency mod. Others are welcome to add content that's relevant to that mod, or any other mod, so long as they follow these guidelines:
See Mod-Specific Page Editing Policy
Guide
Other websites to check out
The official Warzone 2100 website (Go here if you'd like to download the game. Also contains stat lists on various units, structures, weapons, etc.)
A Warzone 2100 wiki built around Atlassian (Contains alot of useful info on modding Warzone 2100.)
The Warzone Bunker (A MediaWiki-based wiki that contains much info on multiplayer strategies.)
Latest activity
Ad blocker interference detected!
Wikia is a free-to-use site that makes money from advertising. We have a modified experience for viewers using ad blockers

Wikia is not accessible if you've made further modifications. Remove the custom ad blocker rule(s) and the page will load as expected.